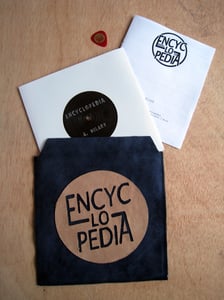 £

4.00
This is our brand new single 'Hilary'. Tracklist goes:
A. Hilary
B. Get A Drummer
These are our first official recordings and first release as a 5-piece rock band, so we've made them extra special.
Available for a limited run of 300 hand-numbered 7" black vinyl singles. Each single set comes in a hand made, faux suede cover, decorated with a hand cut logo (Lots of hands involved. You have absolutely no idea how long these have taken to make). Each set comprises a 10-page stapled booklet containing all the guitar tablature and lyrics for the A Side, a limited edition red Encyclopedia plectrum (To play the song with, you know) and an individual code with which you can download lossless music files of both tracks, as well as a bonus track entitled 'Hello'. All pre-orders also get a selection of badges and stickers.
You can check out the tracks in advance, or just buy the downloads without the vinyl by visiting www.encyclopedia.bandcamp.com.
'Hilary' is released on Monday 27th July 2009 on the T-shirt Records label. It's been a long, long time coming, but we're sure it'll have been worth the wait. Get into it.